Target 8: Prevent heart attacks and strokes through drug therapy and counselling


Target 8: Prevent heart attacks and strokes through drug therapy and counselling
Together, we will work to achieve the following target by 2025:

Prevent heart attacks and strokes through drug therapy and counselling

People with multiple risk factors, such as smoking, raised blood pressure, raised cholesterol and/or diabetes have a higher 10-year risk of cardiovascular events such as stroke, coronary heart disease, peripheral artery disease and heart failure occurring. Population-based interventions alone will not be sufficient to prevent heart attacks and strokes for people at such risk level. Providing drug therapy (including glycaemic control of diabetes mellitus and control of hypertension using a total risk approach) and counselling to high-risk individuals are important to prevent heart attacks and strokes.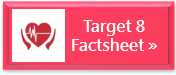 Useful Link