Tips for Parents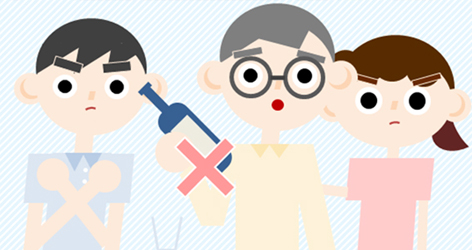 Do you know whether they have drunk alcohol?
Have you ever drunk alcohol in front of your children?
Would they follow suit?
Do you allow your children to drink alcohol?
Why do they drink alcohol?
How much alcohol? Which type(s) of alcohol? With whom?
In fact, parents usually underestimate their children's drinking. A survey conducted by School of Public Health, HKU in 2013 revealed that 62% of secondary school students had ever drunk alcohol; 56% of them fi¬rst tried alcohol at the age of 11 or younger and 11% of them drank at least once a month, but only 44% of parents thought their children had drunk alcohol before.
Before discussing on the issue of drinking with their children, parents can do some simple self-reflection:
Tips for Parents
1.
Establish good parent-child relationship so that children can share their problems with parents instead of relieving stress through alcohol. Discuss more about alcohol with children to understand their attitudes towards drinking and reduce their curiosity. For example:
 

Symptoms and misbehaviours when drunk.
Harms of alcohol to the body, family and society.
Let children understand that it is not necessary to do social drinking.

2.
Set family rules with children about NO alcohol use and let them know that such rules are for their health.
3.
Be aware whether children have friends who smoke, drink or have bad conduct.
4.
Be aware whether children have the following symptoms:
 

Academic or behavioural problems
Changed social circle
Alcoholic smell on breath
Flushing without reasons
Motor coordination problems
Unclear speech
Memory or concentration problems

5.
Don't create an alcohol-friendly family
 

Be a role model and don't drink alcohol in front of your children.
Don't allow children to drink alcoholic drinks.
Don't allow children to eat food that contains alcohol, including liqueur chocolate and liqueur ice-cream.
Don't let children buy alcohol, open bottles or fill the glass for you.
Don't provide alcohol to your children or display alcohol prominently at home.Don't bring children to wine promotion activities (e.g. wine tasting exhibitions, cocktail making classes, wineries), and pay special attention and avoid exhibitions or promotions that link food with wine.